Después de un año de trabajo, el equipo del Entorno de Escritorio MATE ha lanzado MATE 1.22. Un millón de gracias a todos los colaboradores que ayudaron a hacer esto posible.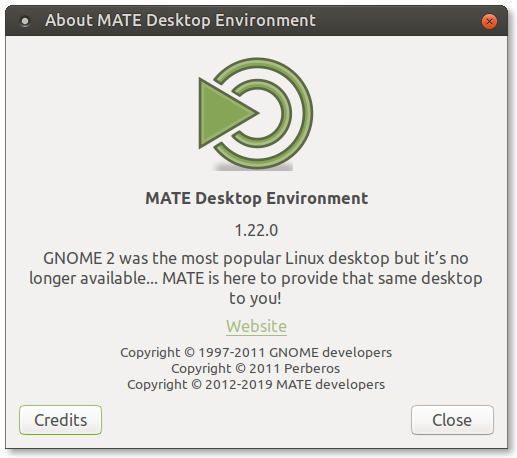 ¿Qué hay de nuevo en MATE 1.22?
Esta versión contiene muchas mejoras y soluciona muchos problemas. Algunos de los ejemplos más visibles son:
Se han hecho muchos cambios en el panel de MATE para que funcione con Wayland

El applet de configuración de pantalla ahora tiene mejores controles para los monitores desde el mismo panel.
El applet del temporizador ahora tiene mejor interacción con el ratón.
El pez Wanda funciona correctamente con despliegues de alta resolución.

El soporte para la versión 3 de metacity-themes finalmente ha llegado al administrador de ventanas marco

También hemos modernizado el gestor de ventanas y espacios para que se vean mejor.

El manejador de sesiones ahora termina los processos correctamente en systemd. También las aplicaciones pueden ser auto-iniciadas luego de un tiempo selecionado por el usuario.
Hemos convertido algunos de nuestros programas a Python 3, incluyendo las bibliotecas de plugins de eye of MATE y python-caja, en adición a la biblioteca de mate-menus
El administrador de archivos caja ahora puede mostrar notificaciones con operaciones de larga duración.
Eye of MATE tiene muchas mejoras para ver los detalles y metadatos de la imagen.
Las pestañas en pluma ahora pueden ser cambiadas con /ctrl + tab/ y con desplazamiento vertical del ratón.
La calculadora ahora puede desplegar hasta 15 caractéres de precisión. También hay mejoras en las acciones de copiar y pegar.
A Engrampa se le ha añadido soporte para varios nuevos formatos de compresión, en adición a una funcionalidad nueva de pausa en el diálogo de progreso.
Algunos nuevos atajos de teclado fueron añadidos, incluyendo teclas como Bluetooth, WiFi, touchpads, y RFKill.
Muchas tareas internas:

Hemos mejorado la estabilidad a través de varios proyectos al corregir pérdidas de memoria y problemas de compilación.
Hemos removido código obsoleto para estar actualizados con las últimas versiones de GTK
Mucha documentación ha sido añadida o correjida.
Todos nuestros proyectos ahora usan Travis CI para asegurar compilaciones limpias en algunas de nuestras distribuciones.
Los componentes del Entorno de Escritorio MATE 1.22 están disponibles para descargar aquí:
Changelog
Aquí están todos los cambios detalladamente (con sus mensajes originales en inglés):
atril
caja
caja-dropbox
caja-extensions
engrampa
eom
libmatekbd
libmatemixer
libmateweather
marco
mate-applets
mate-backgrounds
mate-calc
mate-common
mate-control-center
mate-desktop
mate-icon-theme
mate-indicator-applet
mate-media
mate-menus
mate-netbook
mate-notification-daemon
mate-panel
mate-polkit
mate-power-manager
mate-screensaver
mate-sensors-applet
mate-session-manager
mate-settings-daemon
mate-system-monitor
mate-terminal
mate-user-guide
mate-user-share
mate-utils
mozo
pluma
python-caja