Después de un año de trabajo, el equipo del Entorno de Escritorio MATE ha lanzado MATE 1.22. Un millón de gracias a todos los colaboradores que ayudaron a hacer esto posible.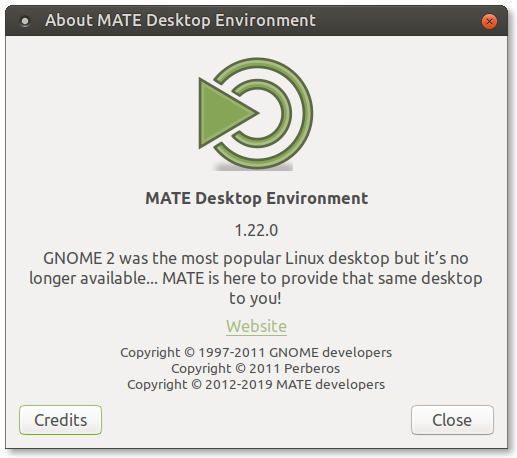 ¿Qué hay de nuevo en
MATE

1.22?

Esta versión contiene muchas mejoras y soluciona muchos problemas. Algunos de los ejemplos más visibles son:
Se han hecho muchos cambios en el panel de

MATE

para que funcione con Wayland

El applet de configuración de pantalla ahora tiene mejores controles para los monitores desde el mismo panel.
El applet del temporizador ahora tiene mejor interacción con el ratón.
El pez Wanda funciona correctamente con despliegues de alta resolución.

El soporte para la versión 3 de metacity-themes finalmente ha llegado al administrador de ventanas marco

También hemos modernizado el gestor de ventanas y espacios para que se vean mejor.

El manejador de sesiones ahora termina los processos correctamente en systemd. También las aplicaciones pueden ser auto-iniciadas luego de un tiempo selecionado por el usuario.
Hemos convertido algunos de nuestros programas a Python 3, incluyendo las bibliotecas de plugins de eye of

MATE

y python-caja, en adición a la biblioteca de mate-menus
El administrador de archivos caja ahora puede mostrar notificaciones con operaciones de larga duración.
Eye of

MATE

tiene muchas mejoras para ver los detalles y metadatos de la imagen.
Las pestañas en pluma ahora pueden ser cambiadas con /ctrl + tab/ y con desplazamiento vertical del ratón.
La calculadora ahora puede desplegar hasta 15 caractéres de precisión. También hay mejoras en las acciones de copiar y pegar.
A Engrampa se le ha añadido soporte para varios nuevos formatos de compresión, en adición a una funcionalidad nueva de pausa en el diálogo de progreso.
Algunos nuevos atajos de teclado fueron añadidos, incluyendo teclas como Bluetooth, WiFi, touchpads, y RFKill.
Muchas tareas internas:

Hemos mejorado la estabilidad a través de varios proyectos al corregir pérdidas de memoria y problemas de compilación.
Hemos removido código obsoleto para estar actualizados con las últimas versiones de

GTK

Mucha documentación ha sido añadida o correjida.
Todos nuestros proyectos ahora usan Travis

CI

para asegurar compilaciones limpias en algunas de nuestras distribuciones.
Los componentes del Entorno de Escritorio MATE 1.22 están disponibles para descargar aquí:
Changelog
Aquí están todos los cambios detalladamente (con sus mensajes originales en inglés):
atril
caja
caja-dropbox
caja-extensions
engrampa
eom
libmatekbd
7e730f0 Enable Travis

CI

for all branches
e6e0234 Initialize Travis

CI

support
dc04e96 rename g_strv_equal to matekbd_strv_equal
c3a62d4 sync with transifex
b11e6ca pre-bump version
a95a4f4 correct scaling on HiDPI displays
81034cf transifex: set minimum_perc and type in config file
05c064e Use gdk screen resolution for font in keyboard status notification icon, to get correct scaling on HiPDI displays.
3fa26b6 add Travis-

CI

support
c36d3ec sync with transifex
8740018 fix po files
e6cd5be transifex: set minimum_perc and type in config file
90dba6e Use gdk screen resolution for font in keyboard status notification icon, to get correct scaling on HiPDI displays.
libmatemixer
4d4520c Enable Travis

CI

for all branches
8653076 Initialize Travis

CI

support
ae50369 add missing po file
af5d296 sync with transifex
3c87f89 pre-bump version
d6a79fd require PulseAudio 5.0 and drop some old code
e6a5518 transifex: set minimum_perc and type in config file
2fb29e6 add Travis-

CI

support
f60062b sync with transifex
8afb1b3 transifex: set minimum_perc and type in config file
libmateweather
33a4dd5 Enable Travis

CI

for all branches
78e3339 Initialize Travis

CI

support
c0e6a9b disable deprecation warnings for distcheck
ada5129 locations: Clean up municipalities of Puerto Rico
6a444b4 sync with transifex
503f0b5 pre-bump version
8d8508b locations: Add Feira de Santana, Brazil
9c3dc44 test_sun_moon.c: remove unused variable
113668f weather-moon: fix weird thing in comments
6197477 metar: fix searching for string to parse
2cb7572 metar: fix indent somewhat
92346b7 transifex: set minimum_perc and type in config file
2054a03 add Travis-

CI

support
74edb1c disable deprecation warnings for distcheck
cecbcbb locations: Clean up municipalities of Puerto Rico
af00b18 sync with transifex
6ea8e08 locations: Add Feira de Santana, Brazil
70e80da weather-moon: fix weird thing in comments
4f556e0 metar: fix searching for string to parse
e059ca3 metar: fix indent somewhat
11cd30b transifex: set minimum_perc and type in config file
marco
mate-applets
cb5ffc11 add Travis-

CI

support
c6259e49 Issues reported by translators
3b5b33a0 multiload: ignore privileged mount points
3e05a6ff Silent output when building.
39d005b1 disable deprecation warnings for distcheck
43a64acc Use make functions for HELP_LINGUAS
339fb827 Netspeed Manual: clean up
eea28bc7 Manual: Linux and

UNIX

systems -> Linux and other Unix-like systems
b233ee48 Use ordered list to describe the steps to add the applet to a panel
f211627e Manual: Fix Add to Panel dialog title
41b743ee Eyes Applet: Fix window title and factory name
e03b4852 Manual:

OK

-> Add (Add to Panel dialog)
48602d7f trashapplet manual: Open Trash guimenuitem
b452bf3b Add/Update Catalan screenshots
eec0d1cd Fix name of Eyes applet
0600dbf6 Refer to the fstab(5) man page for more information…
069a7a72 Remove unused png files
565f521e Fix url of ulink to point to mate-user-guide
4dc452ba Fix spelling and grammar mistakes
1f2d79bd legal.xml
0a00b7cd Cpufreq: Force the frequency label to render if frequencies are not found right away
704fe986 Cpufreq: Refactor to remove more

GTK2

leftovers
0e139588 Cpufreq: ensure frequency label always shows up if freq selected
90633bf3 sync with transifex
5ec87867 update mate-applets.pot
549542af accessx: Convert icons from pixbuf to cairo surfaces
3aaeec39 netspeed: Use theme icons instead of embedded
683946ed battstat: Load theme icons instead of pixmaps
311ae4eb Convert applet icons from pixbuf to surfaces
e83811d0 solving type mismatch in g_settings_set_value
e5ecb8b2 only text formatting to prepare for real change
e35e9514 Fix cpufreq applet spacing on HiDPI displays
4ece3d16 multiload: add style class multiload-applet
5426dfb4 transifex: set minimum_perc and type in config file
2b103078 Enable Travis

CI

for all branches
a57ce1e1 Initialize Travis

CI

support
ada156c7 Issues reported by translators
7a8e4de6 disable deprecation warnings for distcheck
cefd5e90 Silent output when building.
dfad0318 Add git.mk file
70085d23 Support git.mk to generate .gitignore
e0793643 sync with transifex
3caf2ace Use make functions for HELP_LINGUAS
867b495e Netspeed Manual: clean up
8d94f956 Manual: Linux and

UNIX

systems -> Linux and other Unix-like systems
0412e78e Manual: Fix Add to Panel dialog title
df8e737e Eyes Applet: Fix window title and factory name
62c6b2bf Manual:

OK

-> Add (Add to Panel dialog)
4802c6f0 trashapplet manual: Open Trash guimenuitem
030496ac Add/Update Catalan screenshots
ca3008f4 transifex: update pot files:
365c147d Fix name of Eyes applet
dacfd4dc Refer to the fstab(5) man page for more information…
ec3d9f04 Remove unused png files
5f1bb981 Fix url of ulink to point to mate-user-guide
2783047f Fix spelling and grammar mistakes
14a9913b legal.xml
4e15c188 accessx-status: fix another leak
6c34117f Fix memory leak on accessx-status.
246f078f sticky-notes: fix a memory leak
ebabac90 timerapplet: Allow resetting timer when inactive
43b16f78 Weather: apply a widget name to the textview
1cd86c77 weather: add cssprovider for widget not for screen
a15746b9 mateweather-dialog.c: avoid deprecated 'gtk_widget_override_font'
881233e8 cpufreq: stop segfault with gtk3.23
6f4843f6 trash applet: avoid deprecated 'gtk_window_set_wmclass'
0746a55c cpufreq: fix a -Wimplicit-function-declaration
1a11a017 trash: fix a -Wincompatible-pointer-types warning
2c31e385 weather-applet: replace deprecated GtkAlignment
f4221bef weather-dialog: replace deprecated GtkAlignment
cf4ed850 weather-prefs: replace deprecated gtk_alignment_new
7551de5b stickynotes: replace deprecated gdk_error_trap_push/pop functions
3cd2d150 cpu-freq: replace deprecated gtk_menu_popup
d3bf8fd4 sticknotes: replace deprecated gtk_menu_popup
dc720b32 drivemount: replace deprecated gtk_menu_popup
6270bb32 charpick: replace deprecated gtk_menu_popup
0453aa6d sync with transifex
f0b33d11 Cpufreq: Force the frequency label to render if frequencies are not found right away
618ab266 Cpufreq: Refactor to remove more

GTK2

leftovers
8bd11f81 Cpufreq: ensure frequency label always shows up if freq selected
a3c1c30f update .pot file
8a5af152 pre-bump version
cbc200ff accessx: Convert icons from pixbuf to cairo surfaces
2b9d8bf7 netspeed: Use theme icons instead of embedded
a03ead3c battstat: Load theme icons instead of pixmaps
7185a704 Convert applet icons from pixbuf to surfaces
486f9e58 solving type mismatch in g_settings_set_value
23b0803d only text formatting to prepare for real change
ea40c35e Fix cpufreq applet spacing on HiDPI displays
ba596c20 transifex: set minimum_perc and type in config file
147ca93e multiload: add style class multiload-applet
607d5228 avoid deprecated GtkStock
mate-backgrounds
mate-calc
5600c81 Initialize Travis

CI

support
98f0b9b math-window: update copyright year to 2019
bfb8cd7 Tx: update resource for transifex server
4637b01 Increase accuracy range to 15
187a975 math-display: avoid deprecated 'gtk_widget_modify_bg'
bba427d currency-manager: avoid deprecated 'g_type_class_add_private'
2c4aba1 currency: avoid deprecated 'g_type_class_add_private'
fc0720e math-equation: avoid deprecated 'g_type_class_add_private'
a61f07d unit-manager: avoid deprecated 'g_type_class_add_private'
25f0f0a unit-category: avoid deprecated 'g_type_class_add_private'
e8ddb38 unit: avoid deprecated 'g_type_class_add_private'
5ffa9d9 mp-serializer: avoid deprecated 'g_type_class_add_private'
e0e01b8 math-variable-popup: avoid deprecated 'g_type_class_add_private'
740f9a5 math-preferences: avoid deprecated 'g_type_class_add_private'
0dd1f73 math-variables: avoid deprecated 'g_type_class_add_private'
b85ea87 math-converter: avoid deprecated 'g_type_class_add_private'
f9e4e7e math-buttons: avoid deprecated 'g_type_class_add_private'
8c5611d math-window: avoid deprecated 'g_type_class_add_private'
9ac7540 Remove duplicated assignment
49f81fb Fix typo
d0a089f disable deprecation warnings for distcheck
f13a023 math-display: avoid deprecated 'g_type_class_add_private'
ab8897e math-window: Fix memory leak
3693bc6 math-display.c: avoid deprecated 'gtk_widget_ensure_style' (#66)
1546b67 data: update appdata directory
be2b3b8 ui files: add missing icons in titles to dialogs
a1cfbbd buttons-programming.ui: Fix buttons
6f31ccc Use make functions for HELP_LINGUAS
5321fc4 Write equation using MathML
d416464 Fix application name
0aee226 Fix repeated words
48a9bec Copy equation as

ASCII

text
897ad51 sync with transifex
ea8f6ed pre-bump version
2ffd951 update .pot file
58f106a

UI

: avoid deprecated GtkButton:use-stock
074773b

UI

: drop all deprecated elements
fceb9a7 math-preferences: add window icon to Preferences dialog
e29978c transifex: set minimum_perc and type in config file
6cd2c4d Init gtk before math_equation_new; fix #44
f30835f avoid deprecated gtk_image_menu_item_new_from_stock
eaa9ea6 add Travis-

CI

support
0576c7c disable deprecation warnings for distcheck
38f08a4 data: update appdata directory
a279b86 Use make functions for HELP_LINGUAS
d7441b1 Write equation using MathML
e486468 Fix application name
39590d8 Fix repeated words
de4b0c4 Copy equation as

ASCII

text
b0890c3 sync with transifex
a148e5b math-preferences: add window icon to Preferences dialog
10e6fdb Init gtk before math_equation_new
a64b304 transifex: set minimum_perc and type in config file
mate-common
mate-control-center
mate-desktop
mate-icon-theme
eee2a8b Enable Travis

CI

for all branches
3e72529 Initialize Travis

CI

support
5823371 pre-bump version
2857b96 symlink input-touchpad.svg icon
0ba194a add a symlink for bluetooth icon
932961d add icons for touchpad
b4dd6b1 sync with transifex
9d16e11 pre-bump version
899a3e4 transifex: set minimum_perc and type in config file
8acc799 mate: add audio-volume-off
b9236af Add video single and joined display symbolic svg icons
fbd4521 symlink input-touchpad.svg icon
08cbd7e sync with transifex
d895041 add a symlink for bluetooth icon
d1adafc add icons for touchpad
62293d7 mate: add audio-volume-off
98c5e84 sync with transifex
d454349 transifex: set minimum_perc and type in config file
mate-indicator-applet
mate-media
ad1f495 Enable Travis

CI

for all branches
b7d4d16 Initialize Travis

CI

support
f64fbb2 disable deprecation warnings for distcheck
44967fe sync with transifex
be1dbeb Ignore PulseAudio "monitor" inputs when displaying mic icon
e06fd70 gvc-mixer-dialog.c: avoid deprecated 'gtk_widget_override_font'
a52e89c pre-bump version
3588909 transifex: set minimum_perc and type in config file
778e116 add Travis-

CI

support
4fec5a8 disable deprecation warnings for distcheck
78bac2f sync with transifex
12539df transifex: set minimum_perc and type in config file
mate-menus
mate-netbook
288eaed Enable Travis

CI

for all branches
7df6fe1 Initialize Travis

CI

support
92910b6 avoid deprecated 'gdk_error_trap_push/pop/pop_ignored' and 'gdk_flush'
5f26a3b disable deprecation warnings for distcheck
c488e7e tomboykeybinder: avoid deprecated 'gdk_keymap_get_default'
4f78cde pre-bump version
d3e0b44 transifex: set minimum_perc and type in config file
37844ff add Travis-

CI

support
98c5585 disable deprecation warnings for distcheck
1243c95 sync with transifex
6c25a73 transifex: set minimum_perc and type in config file
mate-notification-daemon
mate-panel
mate-polkit
22de40a Enable Travis

CI

for all branches
fbbd4e9 Initialize Travis

CI

support
5485eeb disable deprecation warnings for distcheck
7469714 pre-bump version
1822c79 transifex: set minimum_perc and type in config file
ee80536 add Travis-

CI

support
e262a95 disable deprecation warnings for distcheck
3ae929e sync with transifex
264fefb transifex: set minimum_perc and type in config file
mate-power-manager
mate-screensaver
mate-sensors-applet
707bf62 Enable Travis

CI

for all branches
4ea376a Initialize Travis

CI

support
2628689 Make translatable the copyright in about dialog
4cbcf29 disable deprecation warnings for distcheck
972866e Add NetBSD support.
ff7769b Use make functions for HELP_LINGUAS
5bbef92 sync with transifex
98da528 pre-bump version
f8ca6f7 Fix copyright for plugin files
915bd41 transifex: set minimum_perc and type in config file
34bc99e Add dummy plugin
78ab99a UDisks2 plugin cleanup
64e3232 sync with transifex
39a1a8c fix save order of sensors v2
f876ed2 prefs-dialog: drop unneeded space in general tab
5359056 prefs-dialog: set a min_width for enable_column
3f54c57 prefs-dialog: use hscrollbar-policy GTK_POLICY_NEVER
7e48690 fix GtkStock deprecations
e06917d add Travis-

CI

support
7063811 disable deprecation warnings for distcheck
9af4264 Use make functions for HELP_LINGUAS
8a41f1a sync with transifex
5352e3b transifex: set minimum_perc and type in config file
047590c sync with transifex
4ebb00d fix save order of sensors v2
cba90be prefs-dialog: drop unneeded space in general tab
15b67d2 prefs-dialog: set a min_width for enable_column
34edb53 prefs-dialog: use hscrollbar-policy GTK_POLICY_NEVER
mate-session-manager
mate-settings-daemon
mate-system-monitor
ee025a6 Enable Travis

CI

for all branches
0523541 Initialize Travis

CI

support
2eec5c4 Ensure proper translation of the about dialog title
acd6123 License text in About dialog
9fa6ae5 Make translatable the copyright in about dialog
0cd2493 Update Catalan screenshot
779f22e Help - Priority preset values, including custom value
12959ae procman: avoid deprecated 'g_settings_list_keys'
b359baf disable deprecation warnings for distcheck
b991397 move appdata to metainfo directory
8b1c92d interface: avoid deprecated gtk_menu_popup
7ecf16d Avoid compile warning for g_type_class_add_private
ad26a19 Fix grammar mistake

&

gui label
3575449 Use make functions for HELP_LINGUAS
515a338 sync with transifex
d182b1c pre-bump version
5b1f551 fix crash on systems with pid 0
f411042 update resource for translations
cd4f735 Update interval text in resources tab corrected
7688aa2 transifex: set minimum_perc and type in config file
36bcd30 avoid deprecated GtkStock
386aac5 add Travis-

CI

support
5a0ab35 Update Catalan screenshot
b12ad42 Help - Priority preset values, including custom value
2bf87c9 disable deprecation warnings for distcheck
b78db67 move appdata to metainfo directory
a0f01c5 Fix grammar mistake

&

gui label
05fd8e6 Use make functions for HELP_LINGUAS
533eeba sync with transifex
103d530 fix crash on systems with pid 0
d8673c6 update resource for translations
9e4476e Update interval text in resources tab corrected
892030f transifex: set minimum_perc and type in config file
mate-terminal
4bd3e7c Enable Travis

CI

for all branches
b3ed723 Initialize Travis

CI

support
d30504d Remove unused files in help dir
a15f737 Remove generated files
7fc129f Add update-authors.pl which helps to update terminal.about
fb2f2e8 Update authors
7ab20eb Update Documenters
550b622 drop umtp support
69f4814 Help - Window title when

MATE

Terminal is started for first time
d07810d Help - alternative text for tabbed window picture
b0c0b20 Help -

TERM

=xterm-256color
f4bb742 eggsmclient: avoid deprecated 'g_type_class_add_private'
29536a9 src/terminal-screen.c: Set

TERM

to 'xterm-256color' (instead of just 'xterm'). This provides 256 colors terminal application support.
000df06 move appdata to metainfo directory
b226aa4 disable deprecation warnings for distcheck
3a145a7 terminal-profile: Fix memory leaks
3ff3f27 terminal-screen: avoid deprecated 'g_settings_list_schemas'
2260170 Use make functions for HELP_LINGUAS
d6efb07 Replace -Dokumentationsprojekt with Documentation Project
9081ba9 terminal-window: Fix warnings with menu popup
7958d12 terminal-window: replace deprecated gtk_menu_popup
7b6ba04 sync with transifex
078d0b1 term-screen: avoid deprecated 'gtk_style_context_get_background_color'
7708278 terminal-screen: avoid deprecated 'vte_terminal_spawn_sync'
82e48ff terminal-window: avoid deprecated 'vte_terminal_copy_clipboard'
a25437c pre-bump version
c4cedf7 Revert "fix setting transparency issue when used in

GNOME3

"
54558c5 terminal-window: Fix: Session dbus daemon saturated
e1b834a fix setting transparency issue when used in

GNOME3

dbea928 transifex: set minimum_perc and type in config file
43897cf terminal-app: avoid gtk_dialog_add_buttons with stock ids
90f1e19 avoid deprecated GtkStock
2910ba6 add Travis-

CI

support
a1bab86 Help - Window title when

MATE

Terminal is started for first time
4c24f9c Help - alternative text for tabbed window picture
8084ec4 Help -

TERM

=xterm-256color
4f89d21 src/terminal-screen.c: Set

TERM

to 'xterm-256color' (instead of just 'xterm'). This provides 256 colors terminal application support.
82c02f8 move appdata to metainfo directory
acf0c5d disable deprecation warnings for distcheck
ac89c5a Use make functions for HELP_LINGUAS
ccb0007 Replace -Dokumentationsprojekt with Documentation Project
9edc6bc sync with transifex
02d300b terminal-window: Fix: Session dbus daemon saturated
b84724d transifex: set minimum_perc and type in config file
mate-user-guide
mate-user-share
mate-utils
0dd612b Initialize Travis

CI

support
f2c1234 Make translatable the copyright in about dialog
879a0cf enable translations for ca@valencia again
a6a07e7 help - bump docbook 4.5
7f71199 eggsmclient: avoid deprecated 'g_type_class_add_private'
846b61f move appdata to metainfo directory
e57612b search-tool: disable translations for ca@valencia
39a73e9 disable deprecation warnings for distcheck
0c174e7 Use make functions for HELP_LINGUAS
eeccbf6 Tx: simplify source generation and update them
6f9f947 Replace -Dokumentationsprojekt with Documentation Project
2f8d89d mate-dictionary: Fix memory leak
6333405 Fix spelling and grammar mistakes
d58400c search-tool: replace deprecated gtk_menu_popup
fec8113 screenshot: replace deprecated gdk_flush
8f7ec5e dictionary: replace deprecated gdk_flush
3a9e118 dictionary: replace deprecated gtk_menu_popup
c0800ef dictionary: Replace deprecated GtkFontButton accessors
1a5e0dd disk-usage-analyzer: replace deprecated gtk_menu_popup
360512a Update Catalan screenshots of mate-dictionary
ecb6203 Add Catalan screenshots
9d98cf2 Baobab help: Terminal command updated to 'mate-disk-usage-analyzer'
8f04ddd baobab-chart: avoid deprecated 'gtk_style_context_set_background'
5fbfca9 gsearchtool: avoid deprecated 'gtk_window_set_wmclass'
3c72131 sync with transifex
a613d00 pre-bump version
5cfaaf3 Add support for non-interactive screenshot directly to clipboard
7f98287 transifex: set minimum_perc and type in config file
70a6011 avoid deprecated GtkStock
1e9dbc5 add Travis-

CI

support
473550f enable translations for ca@valencia again
4b6a269 help - bump docbook 4.5
a183245 move appdata to metainfo directory
98499a0 search-tool: disable translations for ca@valencia
106f3e7 disable deprecation warnings for distcheck
8c38ae6 Use make functions for HELP_LINGUAS
c4dc6a6 Replace -Dokumentationsprojekt with Documentation Project
443e6fa Fix spelling and grammar mistakes
78cd274 Add Catalan screenshots
c4875f6 sync with transifex
9a7733d transifex: set minimum_perc and type in config file
mozo
pluma
python-caja